Our school district maintenance department are in the final phases of installing our newly refurbished graduation pictures. Thank you to our maintenance crew and to Dan Thornton (Thorton Photography) for making this project a reality!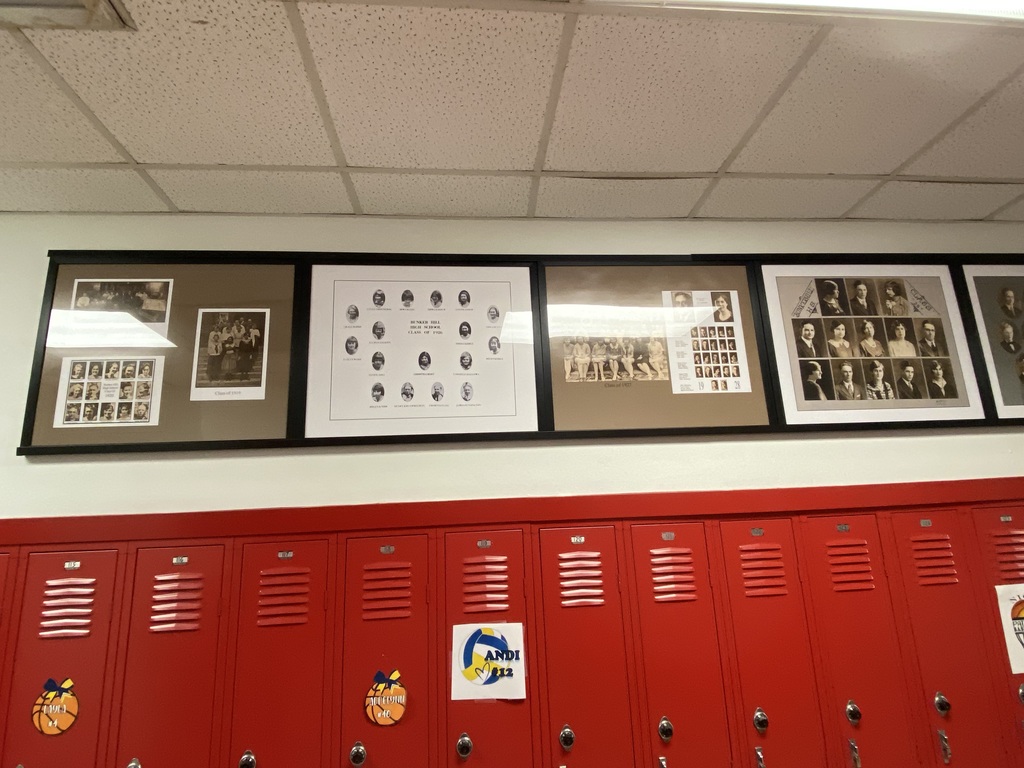 The BHHS student council is preparing for an upcoming blood drive. Please consider donating!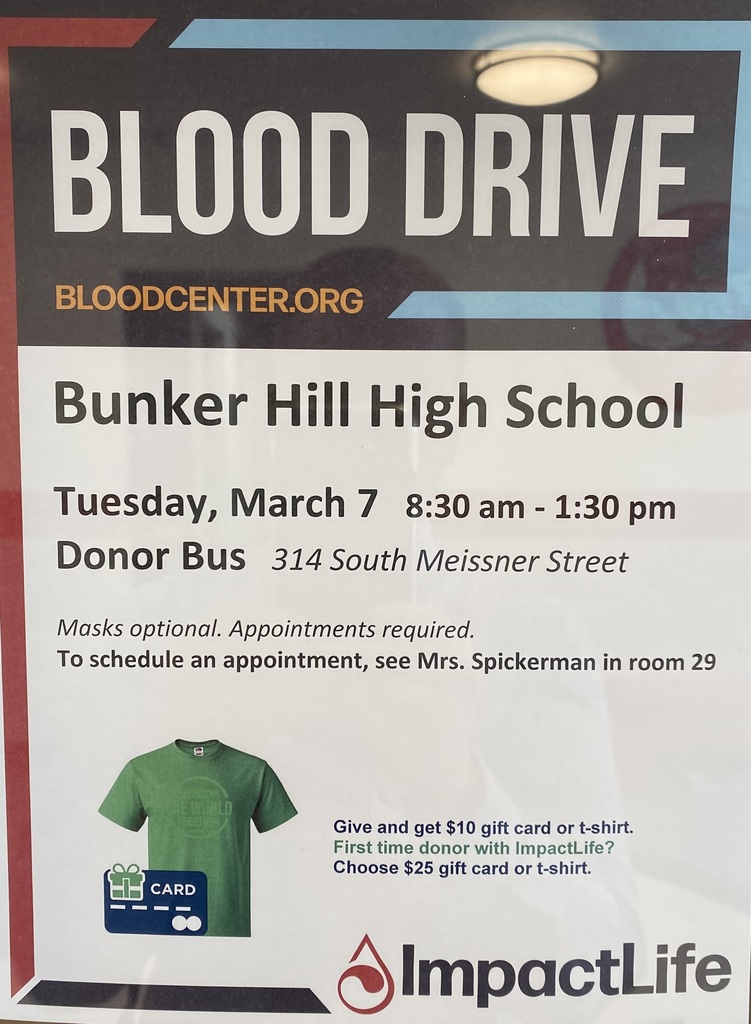 BHHS alumni packed the stands last night for a Minutemen victory! Several alumni also filled the stands to enjoy an alumni game with an exciting overtime finish. BHHS thanks you for your participation on a memorable night!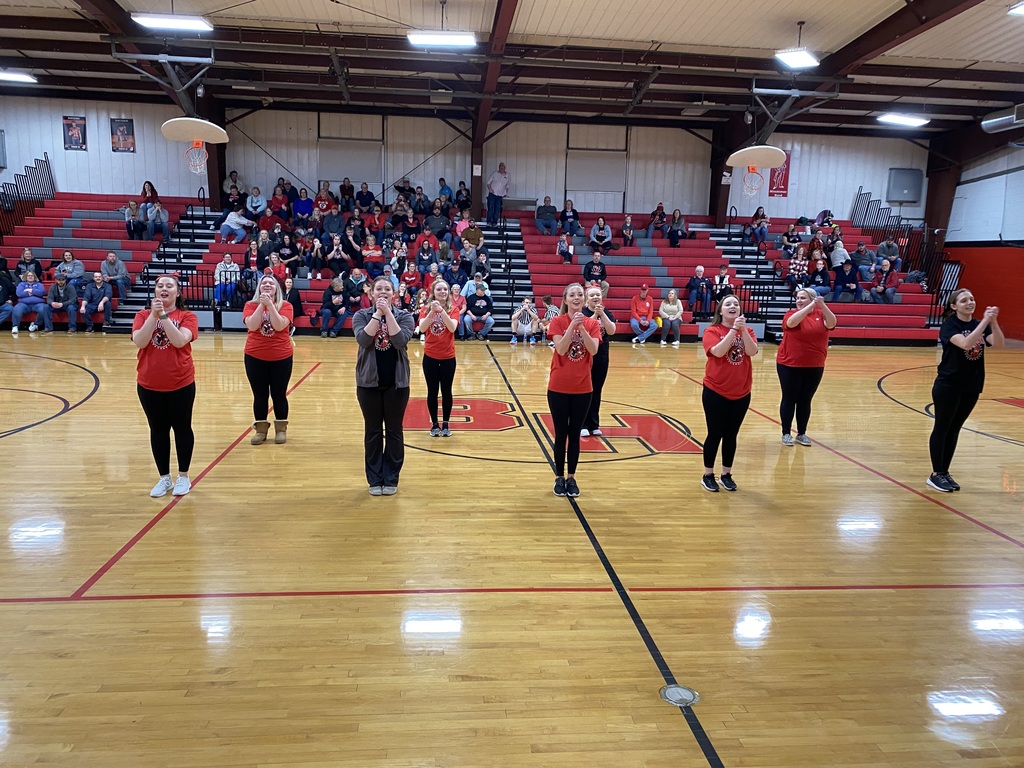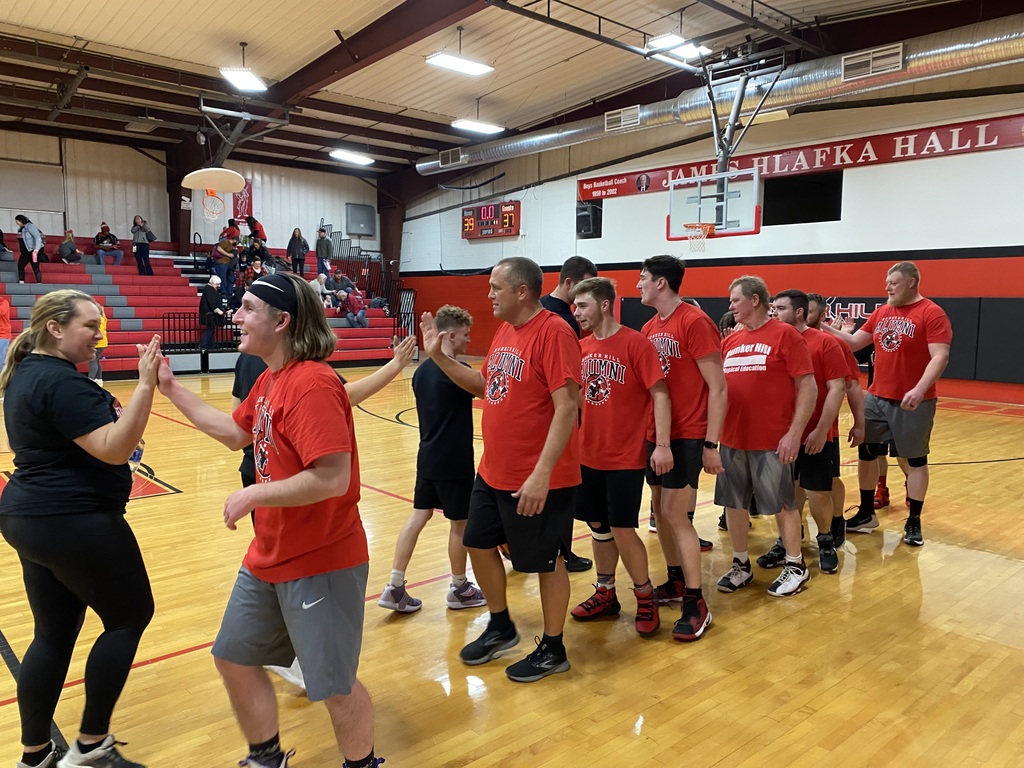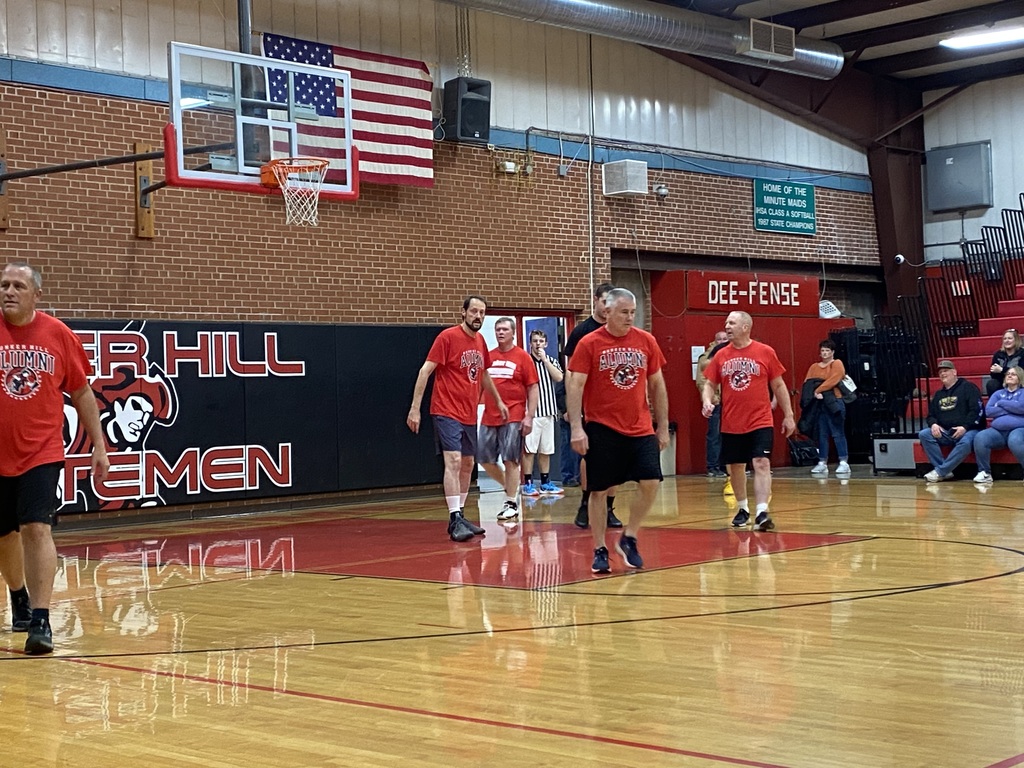 BG's Grub & Pub were the winners of the community school spirit contest held during the Macoupin County Basketball Tournament. Thank you to all of the businesses who participated in the contest!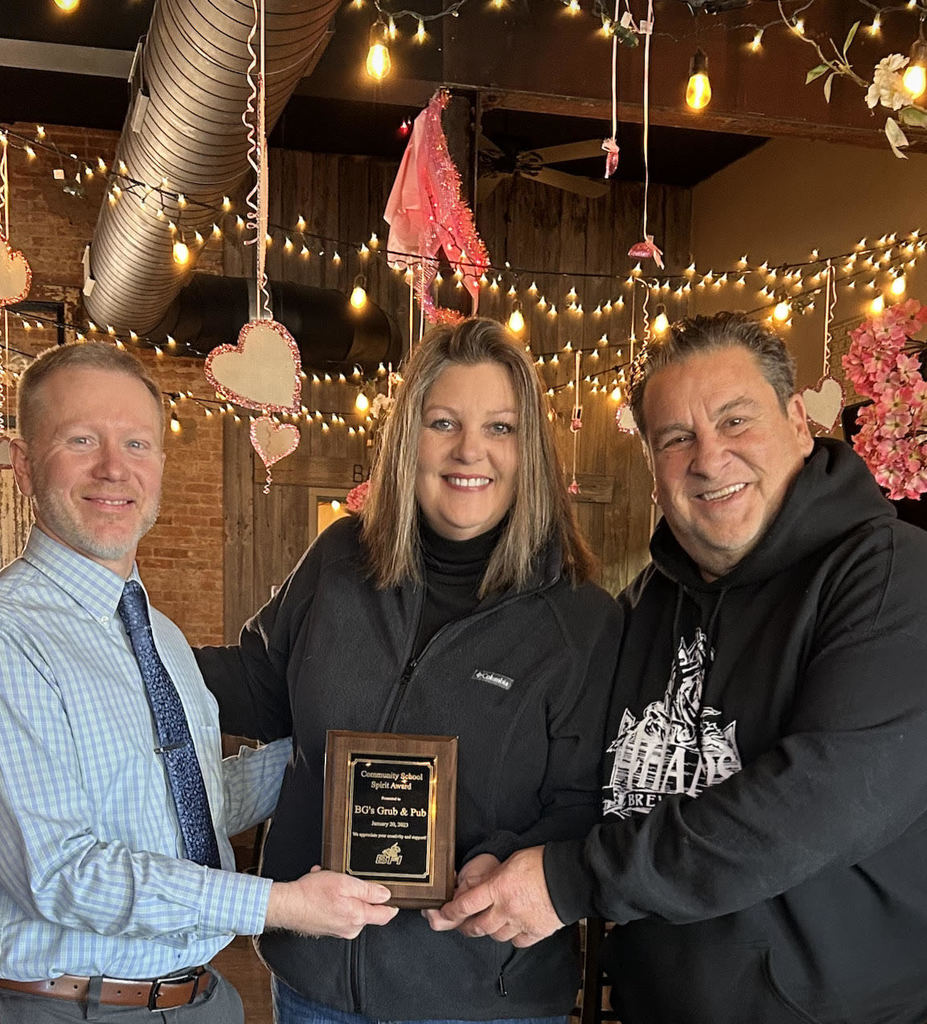 Today, BHHS officially entered the 2023 IHSA Student Section and Spirit Showdown Contest. This was made possible by hours of hard work, creativity, and, most importantly, student voice. Special thanks goes to Olivia Gresham, Lynzie Hill, Jadalyn Black, and Ruth Gibson as the student school spirit committee. Also, special thanks goes to Isaac Steward and Lynzie Hill who helped create the video. What a great time to be a Minuteman or Minutemaid! Please click on the following link to view the video:
https://www.youtube.com/watch?v=_mVWJecPHqs

The girls basketball game for tonight has been rescheduled for tomorrow night. They will be playing at Metro East Lutheran. Varsity will play at 6:00, and there will be some JV minutes afterwards.

Recently, the BHHS Advanced Carpentry Class installed a set of stairs in a "tiny house" in the Bunker Hill area. Just a reminder that this is a service project offered to our community. For more information, please email Mr. Marsh (
kmarsh@bhcusd.org
). It is great to give back to our community!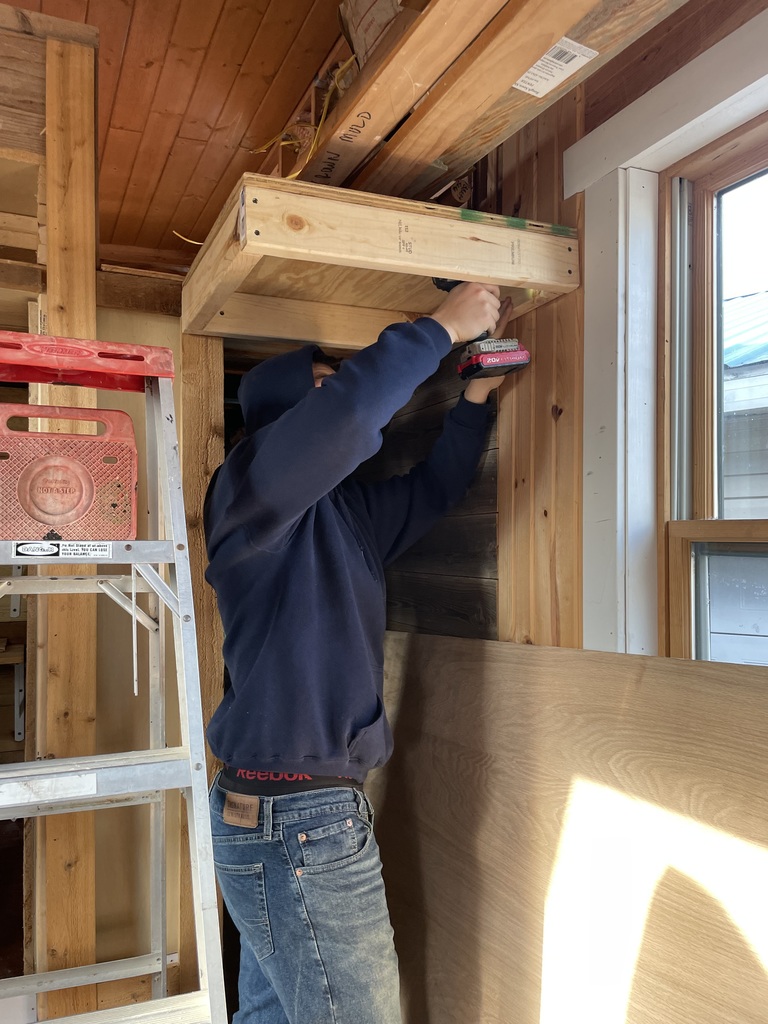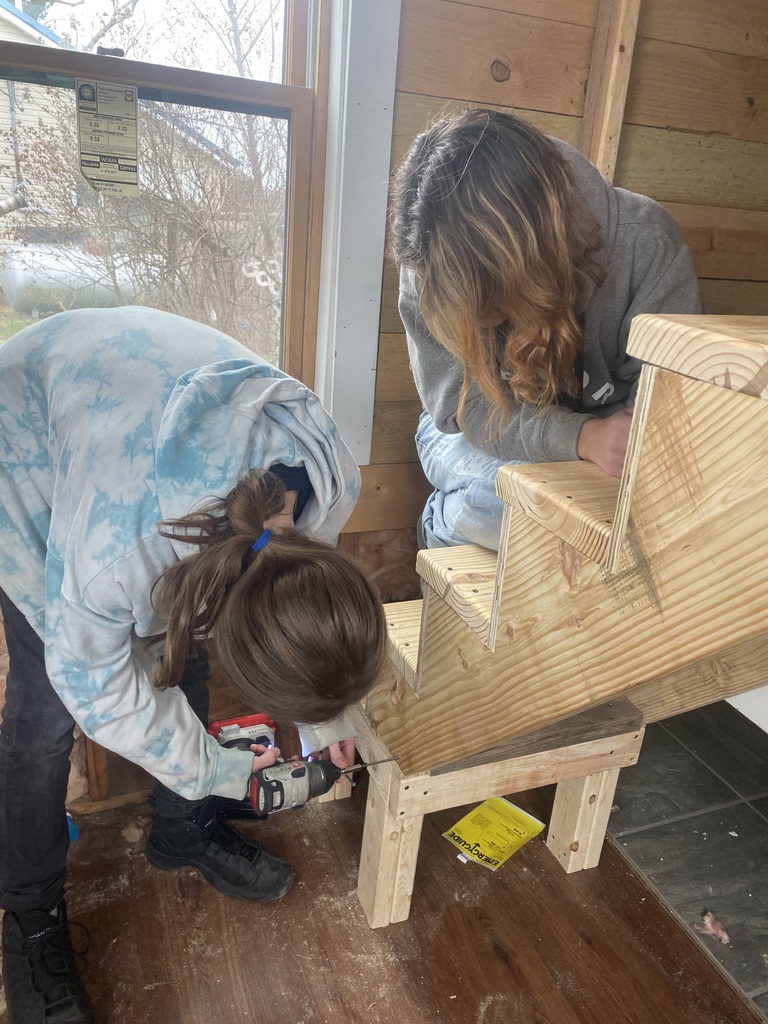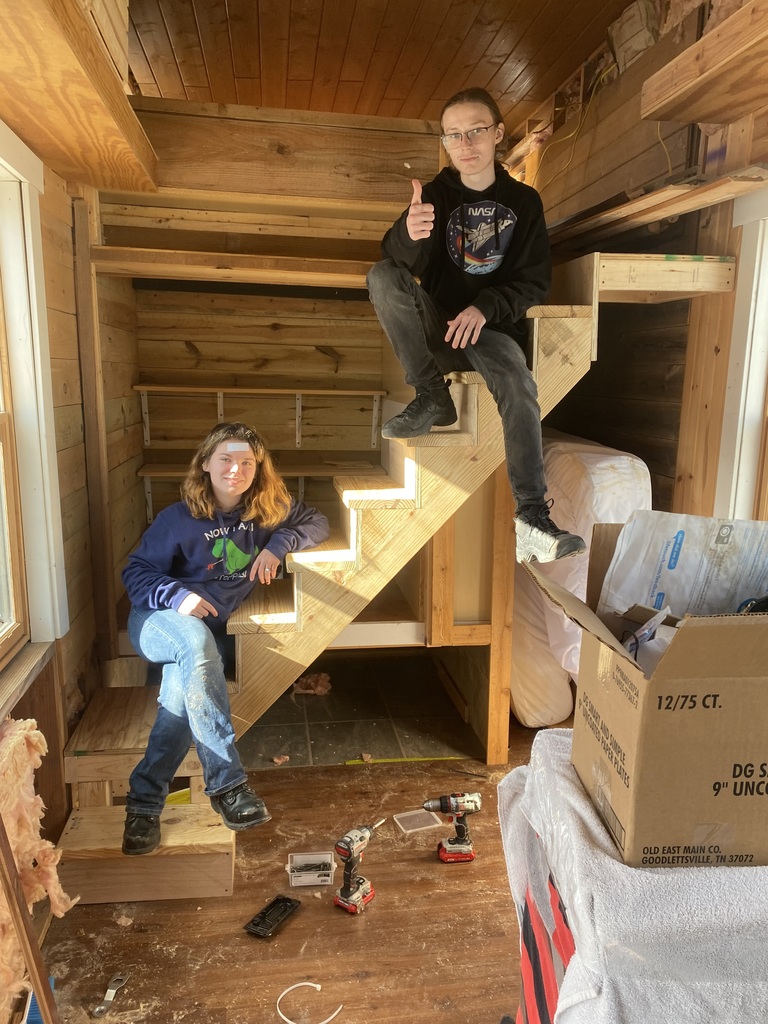 Don't miss another opportunity to play or cheer in front of a crowd in Hlafka Hall! The Alumni Basketball Game is next Friday, February 3rd. We currently have basketball players and cheerleaders signed up from the the class of 1984 all the way up to the class of 2021! Friday January 27th at noon is the deadline to sign up and be guaranteed a shirt. See the flyer below for details.
See the attached flyer for details on the BHHS Cheer Clinic for students in Pre-K-5th grade. The performance will be at the varsity basketball game on 2/10.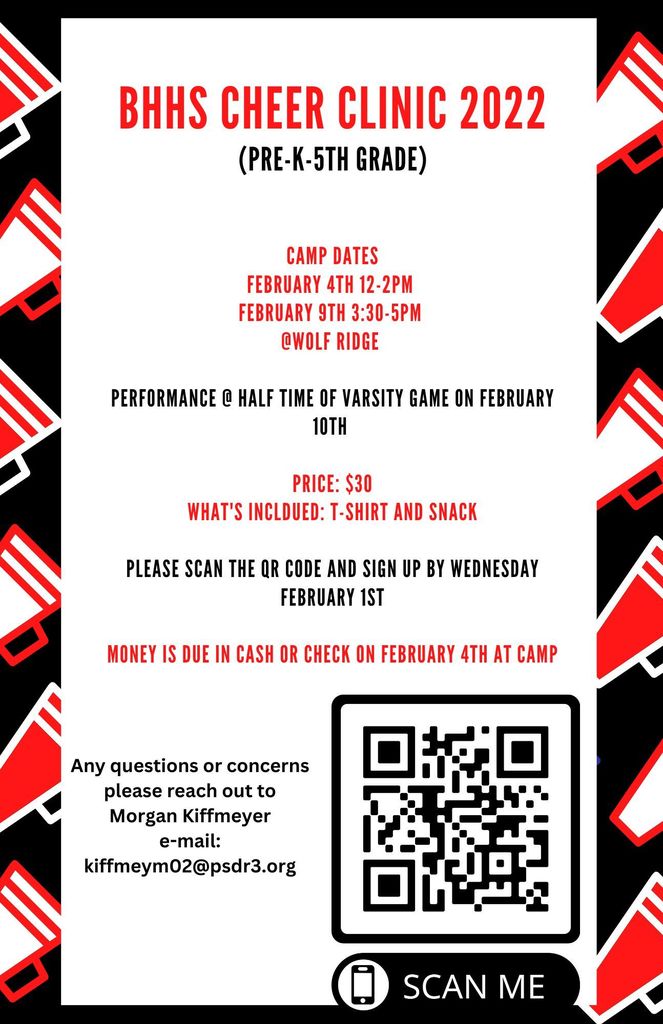 Congrats to the Southwestern Piasa Birds as champions of the 104th Macoupin County Tournament at Bunker Hill High School! Also, congrats to the boys' all-tournament team--Bunker Hill- #5, Grant Burch, North Mac- #44, JT Alexander, North Mac- #24, Mick Downs, Southwestern- #21, Hank Boullion Southwestern- #25, Ian Brantley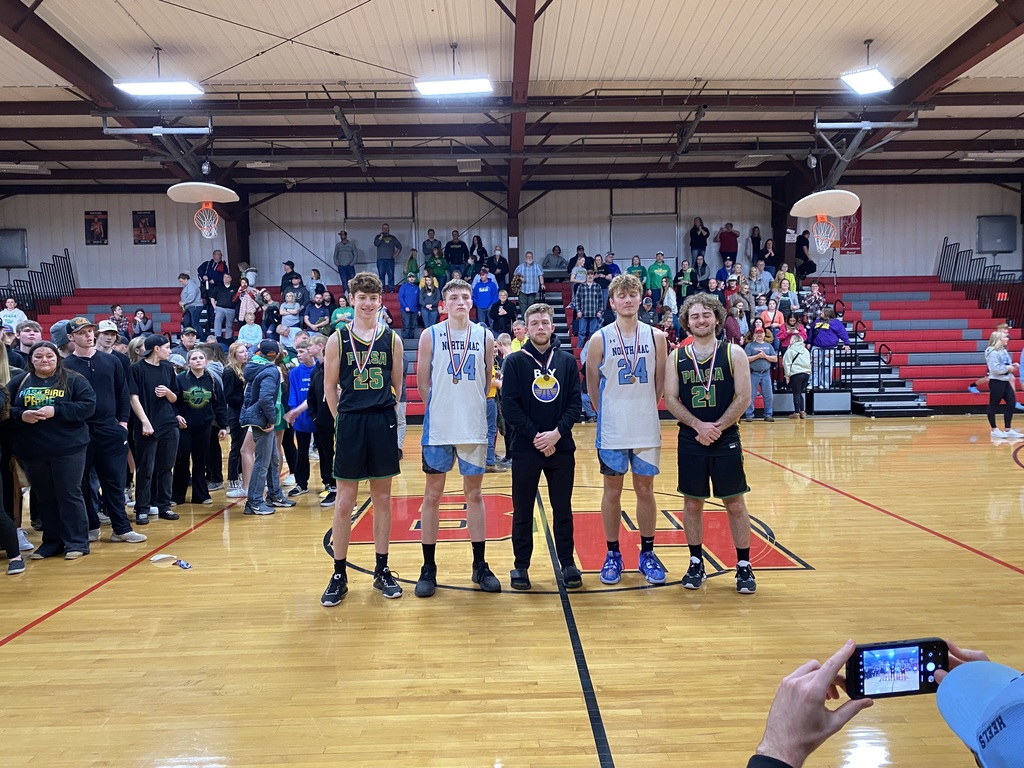 Congrats to the Staunton Lady Bulldogs as champions of the 104th Macoupin County Tournament at Bunker Hill High School! Also congrats to the girls' all-tournament team--Carlinville- #25, Hannah Gibson, Gillespie- #20, Mia Brawner, North Mac- #30, Abby Hendricks, Staunton- #12, Haris Legendre Staunton- #4, Ele Feldmann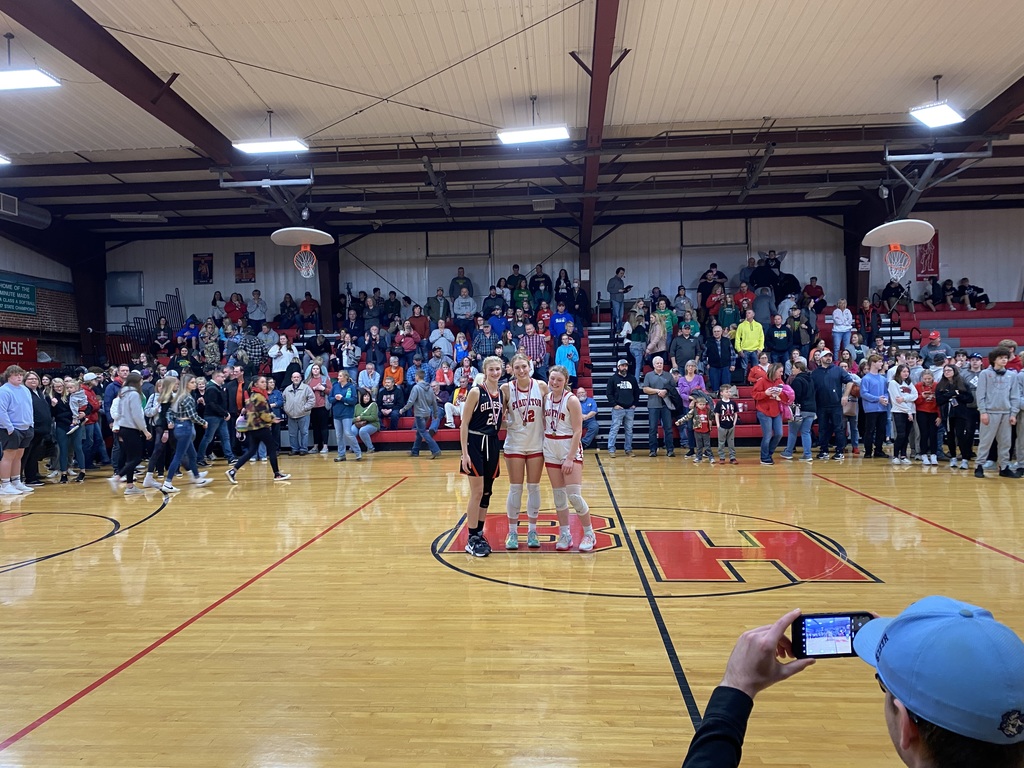 Attention Bunker Hill Alumni- At the basketball game on 2/3/23, all former basketball players and cheerleaders will be honored at halftime of the varsity game. There is also going to be an alumni game after the varsity basketball game! Dust off your sneakers and pom poms! See the flyer for all the details.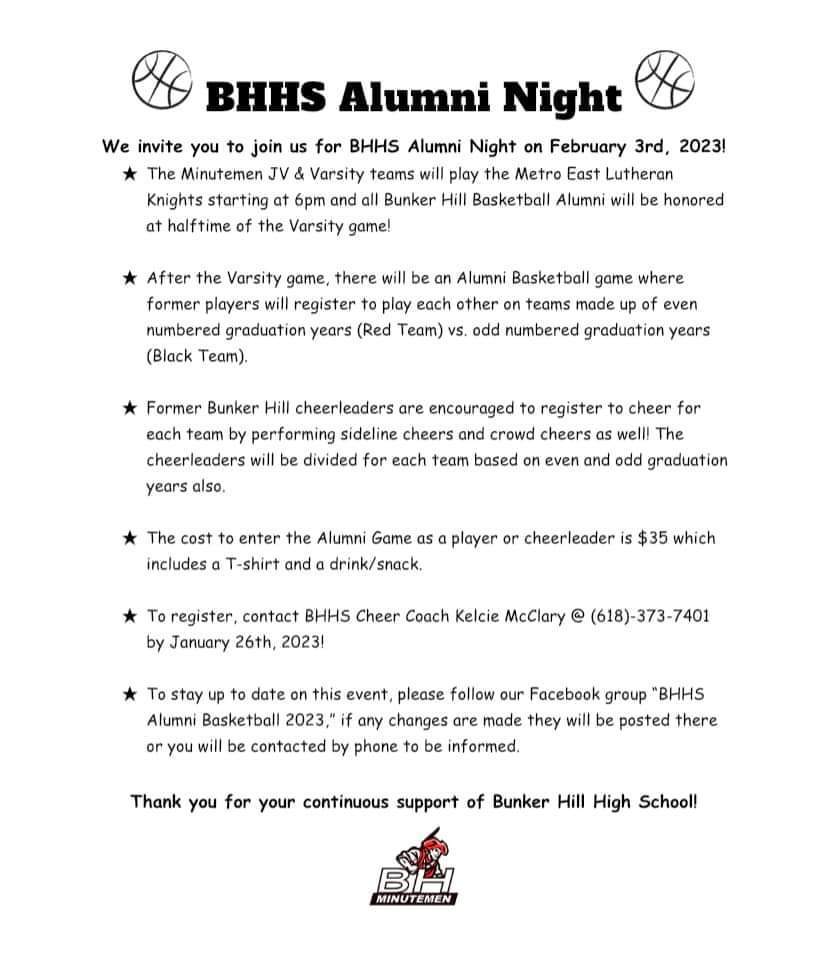 Our Minutemaids came up short, but played a hard-fought game today during the county tourney. Keep your heads up Minutemaids!

BHHS 74 Gillespie 69. Way to go Minutemen!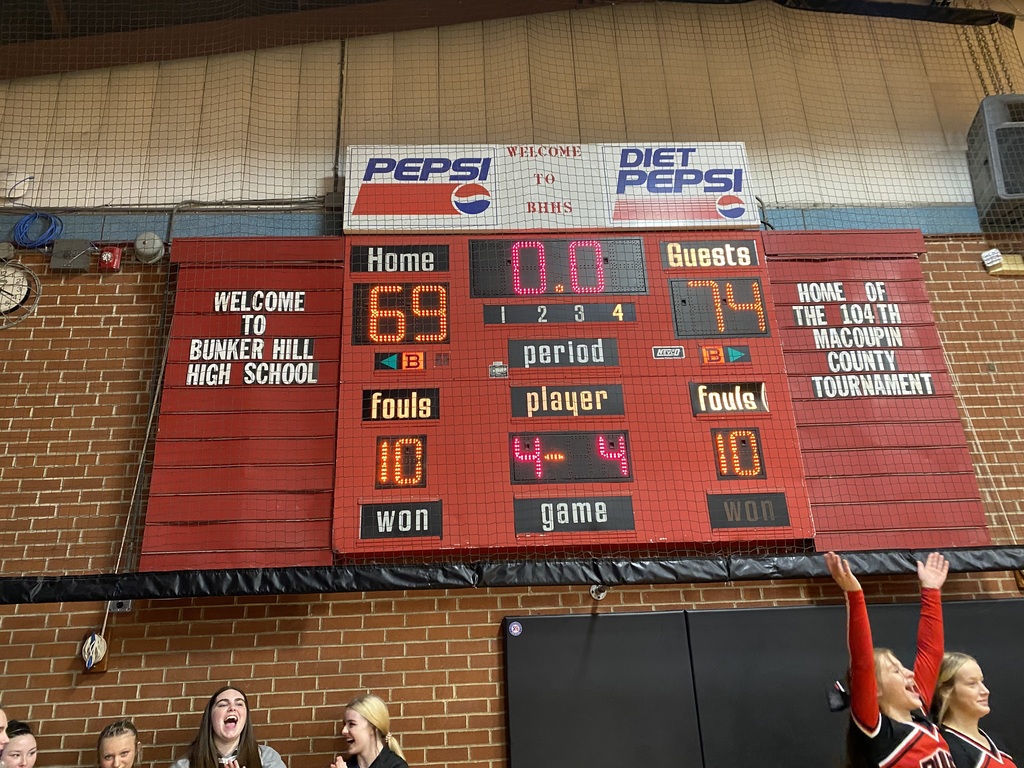 Our 8th grade Spanish class recently enjoyed a collaborative activity! Students wrote and acted out their own introduction scripts.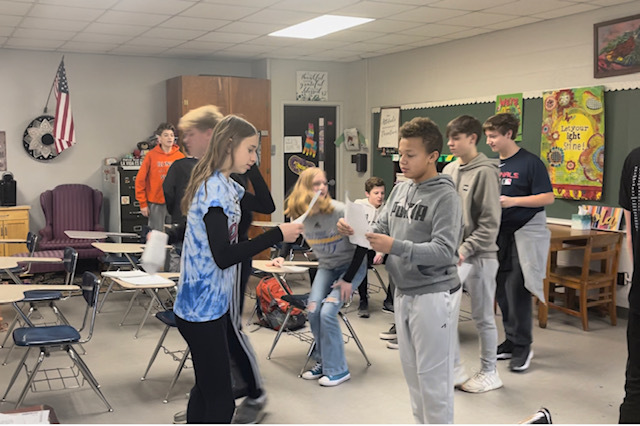 The sophomore class is "running the show" at the BHHS County Tourney. Also, a very special thanks goes to Bo Gresham, Amber Sherer, Shelly Wuellner, Robin Payne and the UCB, Jim Meisenheimer, All Type Hydraulics, and BHCUSD #8 for supplying hospitality room items for the tourney. This is definitely a community effort!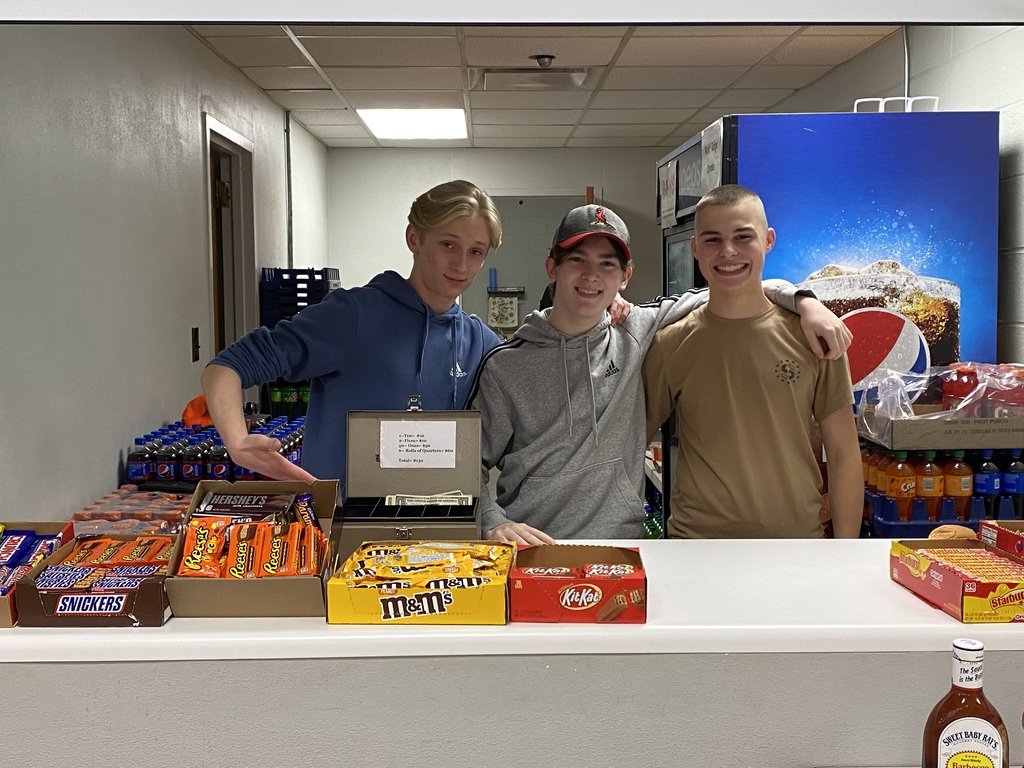 Bunker Hill High School is hosting the 104th Macoupin County Basketball Tournament this week. Come out to watch some great basketball! 104th Macoupin County Basketball Tournament Schedule: MONDAY JANUARY 16, 2023 Game 1- 12:00- North Mac Girls vs Mt. Olive Girls Game 2- 1:30- Gillespie Boys vs Bunker Hill Boys Game 3- 3:00- Gillespie Girls vs Bunker Hill Girls Game 4- 4:30- Southwestern Boys vs Mt. Olive Boys Game 5- 6:00- Carlinville Girls vs Southwestern Girls Game 6- 7:30- Staunton Boys vs Carlinville Boys TUESDAY JANUARY 17, 2023 Game 7- 4:30- Loser of Game 3 vs Loser of Game 5 Game 8- 6:00- Winner of Game 3 vs Winner of Game 5 Game 9- 7:30- Staunton Girls vs Winner of Game 1 WEDNESDAY JANUARY 18, 2023 Game 10- 4:30- Loser of Game 4 vs Loser of Game 6 Game 11- 6:00- Winner of Game 4 vs Winner of Game 6 Game 12- 7:30- North Mac Boys vs Winner of Game 2 THURSDAY JANUARY 19, 2023 Game 13 4:30- Winner of Game 7 vs Loser of Game 1 (Girls 5th Place) Game 14 6:00- Winner of Game 10 vs Loser of Game 2 (Boys 5th Place) Game 15 7:30- Loser of Game 9 vs Loser of game 8 (Girls 3rd Place) FRIDAY JANUARY 20, 2023 Game 16 4:30- Loser of Game 12 vs Loser of Game 11 (Boys 3rd Place) Game 17 6:00- Winner of Game 9 vs Winner of Game 8 (Girls Championship) Game 18 7:30- Winner of Game 12 vs Winner of Game 11 (Boys Championship)

COMMUNITY SPIRIT CONTEST ADDITIONAL INFORMATION ! The Macoupin County basketball tournament begins Monday, January 16th. If your business is participating, please have your business decorated by that day. Each business will have 1 main photo to be voted on. One of our students will be available to take your business photo Sunday, January 15th or Monday, January 16th before 12pm. The community will be voting throughout that week and voting will end Friday, January 20th at 6pm. The winning business will receive a plaque to display & will also be published in the Gazette News. ** If your business is participating, PLEASE reach out to Lynzie Hill by this Friday, January 13th with your business name & what time you will be available for the photo to be taken. Please message this number: 618-567-1950 *feel free to tag local businesses you'd like to see participate! Thanks & good luck!!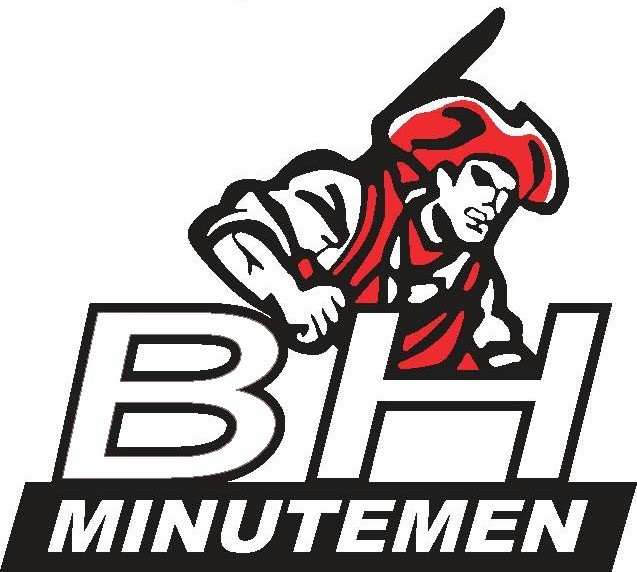 At the start of the 2nd semester, BHHS expanded its automotive class offering to include 8th grade students. Students are seen here disassembling an engine. Also in speech class on Friday, students participated in a "show and tell" activity that included bringing in their furry friends!