Bunker Hill #8 Parents/Families –
I am pleased to report a couple of items with you this morning:
1) Last night, at the Special Board meeting, the BH 8 Board of Education voted to move forward with the final phase of our Roadmap to Restart plan. As a result, all BHHS students in grades 9-12 will return to school 5 days/week beginning Tuesday, October 13, 2020. Of course, any parent that desires to choose complete remote learning due to health and safety concerns regarding the coronavirus will continue to have that option throughout the 2020-21 school year. Although the schedule more closely resembles a "normal year" we must not relax our adherence to all safety protocols. If outbreaks or significant numbers of close contacts to positive cases were to begin increasing exponentially, certain classes/grade levels may be moved to temporary periods of remote learning, or a return to the "hybrid" schedule for short periods of time. However, let us focus simply on ensuring that in-person learning can continue safely.
2) Again, I am very pleased to report another week has passed without any new additional cases of Covid-19 in Bunker Hill CUSD #8 as reported by the Macoupin County Public Health Department! I continue to be impressed with the diligence of our students, parents and faculty/staff in following all safety protocols. This success is the result of teamwork, and our return to in-person learning could not have happened without everyone's cooperation, both inside and outside of school. We will continue to monitor regional, county and our own internal metrics like the graphic below in order to ensure that the spread of Covid-19 will not occur within the halls of Bunker Hill #8 schools.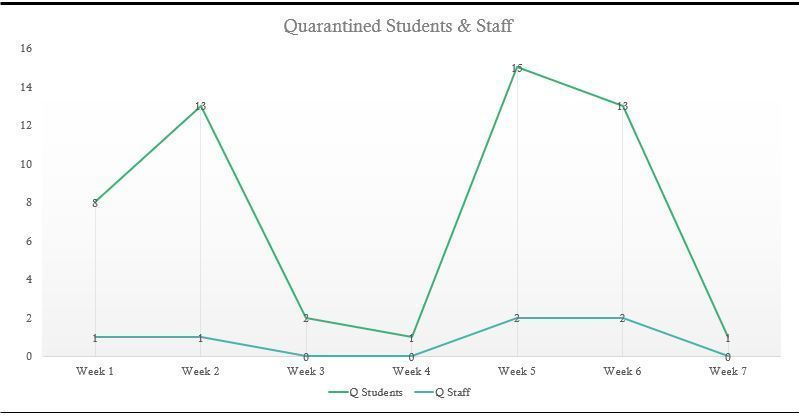 Enjoy the long weekend with your families, and as always, thank you for your continued patience and partnership.
Respectfully yours,
Todd Dugan, Superintendent